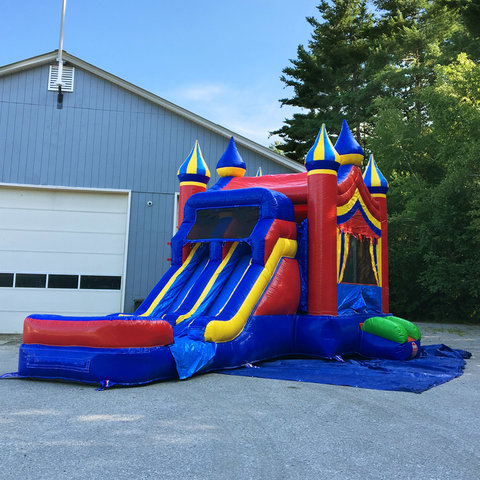 XL Dual Slide Combo (WET)
Have twice the fun with our XL wet double lane bounce house slide combo.
This inflatable bounce house with attached two-lane 6' slide allows two riders to go down at the same time. Enclosed entrance helps keep track of how many children are inside the bounce house. Riders then fight the pop ups and climb their way up the rock wall before racing their friend down the slide. An inflatable wall in the middle helps keep riders in their own lane. A basketball hoop inside is great for jumping basket fun,
Hook the hose up to the slide and let riders enjoy a super splashing water slide that drops them into the splash pool at the bottom. Jumping, bouncing, climbing, sliding, splishing and splashing fun is guaranteed. This double lane bounce house slide combo
is the perfect addition to any backyard celebration.