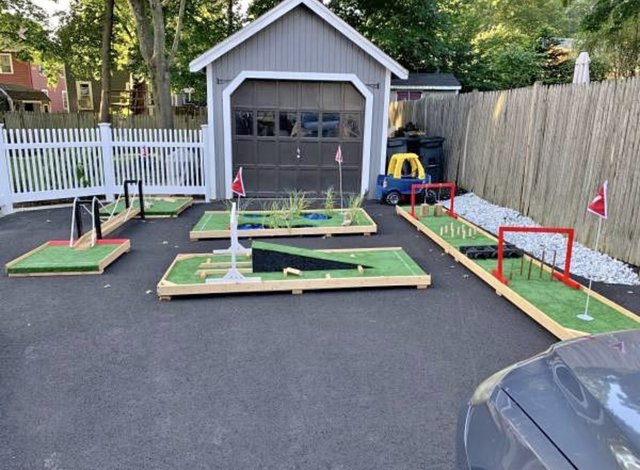 4 Hole Mini Golf
Hole 1 [approx. 4'x12' with bridge]: This hole features a 3'x3' starting pad with a bridge to get the ball to the 4'x4' pad where the hole resides. There are loose block obstacles that can move or reposition to make the hole as "easy" or as "hard" as desired.
Hole 2 [approx. 3'x8']: This hole features a central ramp with labyrinths on either side. If you can make it up the ramp you will have a fairly easy time getting the ball in the hole. If you fall off either side of the ramp… you get stuck in a maze of obstacles guaranteed to drive up your score.
Hole 3 [approx. 4'x8']: This is a "nature" hole featuring plastic water plants and 3x "water" hazards and obstacles. There are several pathways to reach the hole including a jump/ramp that can be used to jump the largest "water" hazard if you dare!
Hole 4 [approx. 2'x16']: This is a long tricky hole with moveable dangling block and pipe obstacles and a moveable 3x tunnel assembly.

Comes with 8 putters and balls.